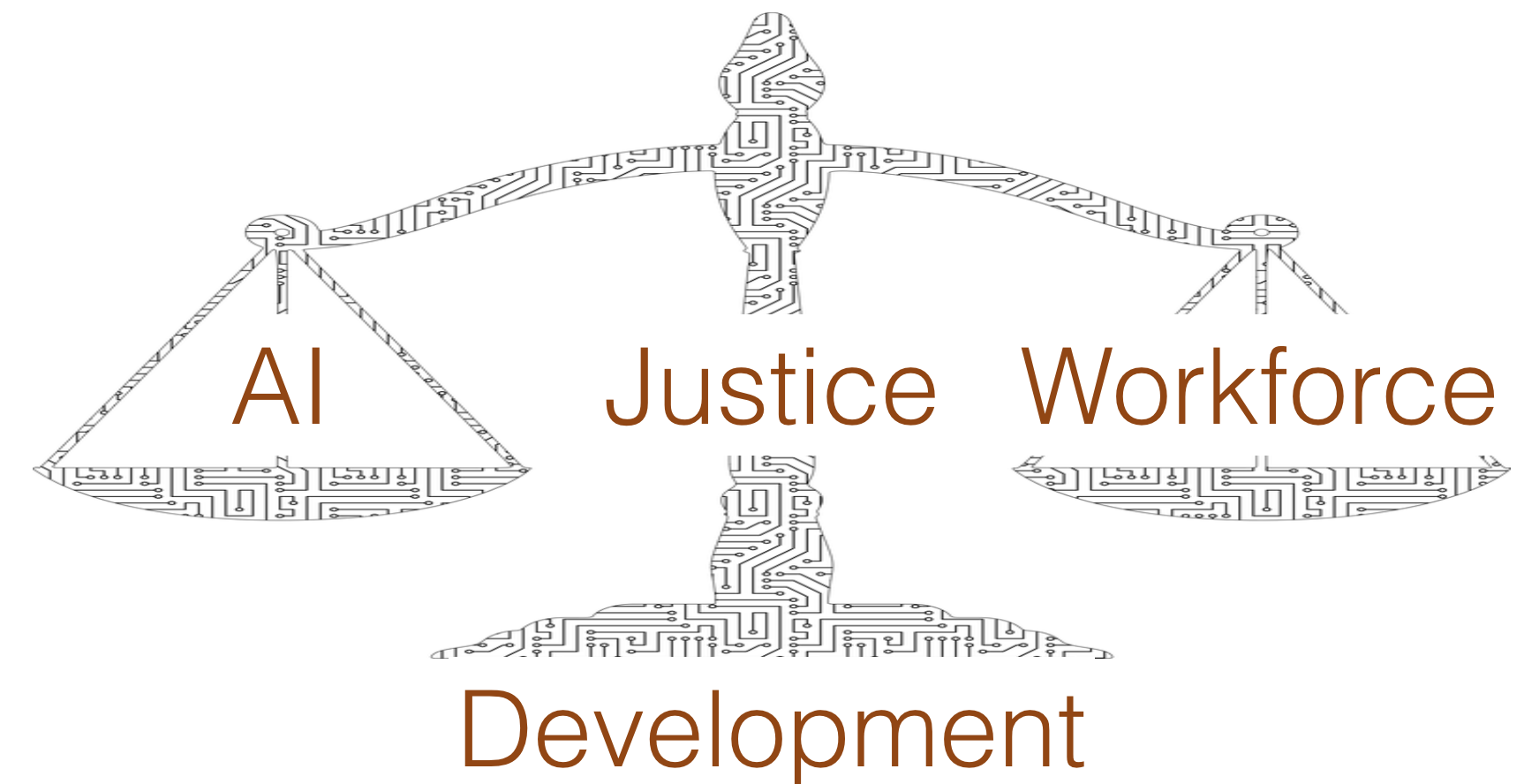 Supported by:  NSF and  Rutgers University-Newark. 

Click here to submit a poster presentation abstract
When: Monday, September 9th, 2019
Where: Great Hall, 15 Washington Park, Newark
What:
The conference will bring together diverse scholars from machine learning & artificial intelligence with experts in the legal, social and workforce implications of these technologies. The goals will be to: 1) understand the current state of the art in Machine Learning & AI and the Law, focusing on aspects of fairness and accountability; 2) discuss current and potential future implications of these technologies for society; and 3) prioritize actions that can be taken, in Newark and across the country, to ensure a future in which technologies benefit our diverse citizenry.
Who:
Organizers
Patrick Shafto,
Rutgers University
David Lopez,
Rutgers Law School
Fay Cobb Payton,
NSF
Invited Speakers
Rediet Abebe,
Harvard University
Ifeoma Ajunwa,
Cornell University
Solon Barocas,
Cornell University
Pauline Kim,
Washington University in St. Louis
Michael King, Florida Institute of Technology
 
Karl Ricanek Jr.,
UNCW
Andrew Selbst,
Data & Society Research Institute
Brittny-Jade Saunders,
Cornell University
Nicol Turner-Lee,
Center for Technology Innovation, Brookings Institute
 
Schedule
Schedule is tentative and subject to change
Main Conference
9:00 am – 9:30 am      Breakfast Mingle & Opening Remarks
9:30 am – 12:30 pm     Morning Talks & Panel
Speakers:
Ifeoma Ajunwa, Asst Professor of Labor & Employment Law, Cornell University, "The Paradox of Automating as Anti-Bias Intervention"

Rediet Abebe, Computer Science, Harvard University, "Mechanism Design for Social Good"
Solon Barocas, Asst Professor of Information Science, Cornell University, "On Proxies and Fairness"

Pauline Kim, Professor of Law, Washington University in St. Louis, "The New Labor Market Intermediaries"

Karl Ricanek, Jr., Professor of Computer Science, UNC-Wilmington, "Why is face recognition hard to deploy? Systemic Issues with in AI-derived Face Processing"
12:30 pm – 1:30 pm    Lunch & Group Discussions
1:30 pm – 2:30 pm     Poster Presentations
2:30 pm – 5:00 pm     Afternoon Talks & Panel
Speakers:
Nicol Turner-Lee, Governance Studies Fellow, Brookings Institute, "Detecting and mitigating online racial bias in machine learning algorithms"

Andrew Selbst, Postdoctoral Scholar, Data & Society Research Institute, "Implementing Algorithmic Impact Assessments"

Brittny-Jade Saunders, Deputy Commissioner for Strategic Initiatives, NYC Commission on Human Rights, "Algorithms and Human Rights: A Local Government Perspective"
Michael King, Computer Science, Florida Institute of Technology, "Are Face Recognition Systems Biased Relative to Race and Gender?"
5:00 pm – 5:30 pm     Wrap Up
Post-Conference at Clement's Place Jazz Club
15 Washington Street, Newark
5:30 pm – 9:30 pm
Continuing the discussion over music and hors d'oeuvres
Lodging
A block of rooms is reseved at the Robert Treat Hotel. There are also a number other hotels in close proximity including the Hampton Inn & Suites Newark-Harrison-Riverwalk, DoubleTree by Hilton Newark Penn Station, and Hotel Indigo Newark Downtown.